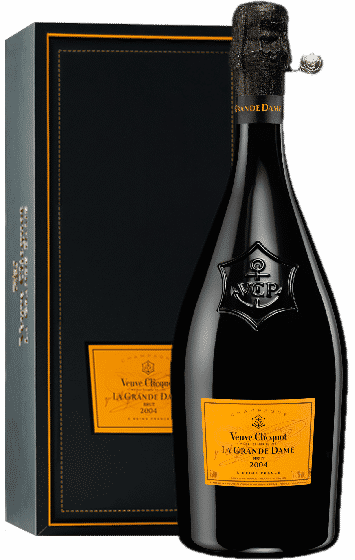 Veuve Clicquot La Grande Dame 2004
The colour is luminous, sparkling gold with amber highlights. There is plenty of effervescence. The fine, light bead swirls up slowly and gracefully. The first nose reveals a definite mineral base, with noble fruit (white peaches, bergamot) and remarkable intensity. On agitating, the bouquet becomes gourmand and voluptuous with hints of brioche, nougat, apricot, vanilla, frangipane and jasmine.
On the palate, there is plenty of body and substance. The texture is crisp and silky. The chalky mineral note resonates magnificently with this full-bodied structure and intensifies the lengthy persistence. The Verzenay/Avize duet (the two dominant crus in this blend of 8 grand crus) takes on its full dimension. The finish is fresh and generous, indicating a light dosage that does nothing to disturb the wine's natural balance.
Delivery in Perth Metro $10 Flat Rate
Expert Review: James Halliday
97 points
This is an awesome wine of great complexity, composed of 61% pinot noir and 39% chardonnay virtually entirely Grand Crus. Disgorged late 2011, it has grown another leg over the past 18 months, its array of mouthfilling peach, apple and grapefruit flavours given texture by contrasting notes of cream, brioche and mineral advancing through the long travel in the mouth.
Cape Mentelle SBS 2014
Cape Mentelle takes a minimal approach towards this classic Margaret River blend. The aim is to preserve as much fruit intensity and regional character as possible, whilst providing a full flavoured distinctive white wine. The style accentuates the fresh fruit characters of both varieties with the added complexity and palate weight offered by a small portion of barrel fermentation.
Appearance: Pale straw with green hues
Nose: Aromas of white melon, lime, grapefruit, honeysuckle, blackcurrant and a hint of chalk dust.
Palate: Juicy clean and fresh with talcy pithy structure balancing the rich fruit flavours of limes, passionfruit and lychee. The texture is creamy and the finish bright, intense, long and elegant.
Delivery in Perth Metro $10 Flat Rate


Atze's 'The Mob' Montepulciano 2014
The Kalleske family have been Barossa Valley grape growers for five generations so they know the usual viticultural hazards only too well. They hadn't counted on a mob of 150 hungry sheep who sneaked through a gap in a fence and feasted on the vines' new shoots.  Andy won't confirm or deny if he feasted on the ringleader when he discovered what they'd been up to. I'd have been tempted!  Three years of remedial vine tending and the result is in the bottle, named in honour of those pesky sheep.
Montepulciano hails from eastern Italy where it is famed for its deeply coloured reds with lively acidity and savoury tannins. Transplanted to the Barossa Valley these elements survive and the fruit characters seem that little bit more pronounced and vivid.  The bouquet has exotic spices: cinnamon, cloves and toasted coffee oak. Fresh and focused the palate has dark berry fruit, that famed line of acidity and well judged tannin.
Imagine yourself in Venice or Naples, a perfect pizza or a bowl of pasta in front of you: The Mob is what you want to be drinking.
Cellaring potential looks excellent, Andy says fifteen years. I say I'd finish a case in fifteen months and buy the new vintage…those sheep permitting of course.  Now come to think of it, barbecued lamb chops wouldn't be a bad match.
Delivery in Perth Metro $10 Flat Rate
Gold Medal Barossa Wine show 2015
Top Gold – 2015 Australian Small Winemakers Show
Riedel trophy Winner 2015
Winestate Magazine Wine Of the Year Awards Finalist 2015 Alternate Reds
Top Gold – 2015 Australian Alternate Wine Show
[woocommerce_one_page_checkout template="product-single"]